(Disclaimer: The below piece is a satire on the admission General Musharraf made today to the Der Spiegel magazine. It was written with no malice and no intention to offend. It was written with two motives: to make you either smile or cringe in pain. We hope to have succeeded in doing either. Details about the shocking confession (the real one) can be found here: http://bit.ly/9lqc9t. As for us at CorpCom, we are not surprised. We Indians may be a hankering and cacophonous lot, but our assertions are always based on sound reason and judgment. We are no war-mongers. As always, any comments on the disclosure and the attempt-at-humour below are welcome and desperately solicited)
J.P. Dutta's iconic 1997 movie
'Border'
and former Miss World Lara Dutta were the primary inspiration for the 1999 Kargil War, according to a shocking new confession by the ex-President-cum-Prime-Minister-cum-Chief-of-Armed-Forces of Pakistan, General Pervez Musharraf. Addressing a banquet hall of slouching, yawning journalists who had expected the launch of another ghost-written 'sensational' book, General Musharraf responded to a question on ongoing war in Eye-raq thus:
" ...When fighting a war against a tyrannical oppressor and aggressor, every reason is justified and worth fighting for!..."
When further asked that what
was it that was his inspiration when he led the war against India in Kargil in May 1999?, Gen. Musharraf replied:
"Thanks to the internet boom and the cheap pirated DVD business run by my very old friend Dawood, I chanced upon a copy of J.P. Dutta's Border. There is a scene in the movie when a Pakistani soldier captured by the Indian Army reveals Pakistan's deadly plans: 'Subah ka nashta Jaisalmer mein karenge... Dopahar ka khana Jodhpur mein karenge... Aur shaam ka, Delhi mein'. That was it, I thought, this is what i need to do in life. It would be a life changing experience. Think about it: You have Laal Maas for breakfast, Daal-Baati Churma for lunch and for dinner, its Sikandari Raan from Karim's topped off with some Giani's gelato. Not to forget that it would be a great cross country road trip on my new set of wheels-Pansy tanks from my little Red Chinese friends."
On whether the gastronomic urge was the only reason behind the War, Musharraf said:
"No, there was another woman-Lara Dutta. After Benazir left me for Prince Charles, I was heartbroken. Things did not make sense. I was caught in a never-ending spiral of guns and money. But then, I gathered from very well placed Bollywood sources in Dubai that Lara had the hots for me. He also told me that these 'filmy-types' like bad boys, the badder the better. Look at Monica Bedi, for example! I could very soon imagine the two of us walking barefoot, hand-in-hand along the length of Marine Drive, or riding the horse buggy in front of the Victoria Memorial. I had to regain my love"
When one of the more diligent journalists (who was overdosing and hence, delirious, on caffeine by now) quizzed Musharraf on his thoughts on Kashmir, he quipped:
"Kashmir? Yeah, its a beautiful place, I've seen pictures and all. I really want to go there sometime, but apparently there's a lot of fighting of some sort going on there, some independence stuff."
Soon after the news was p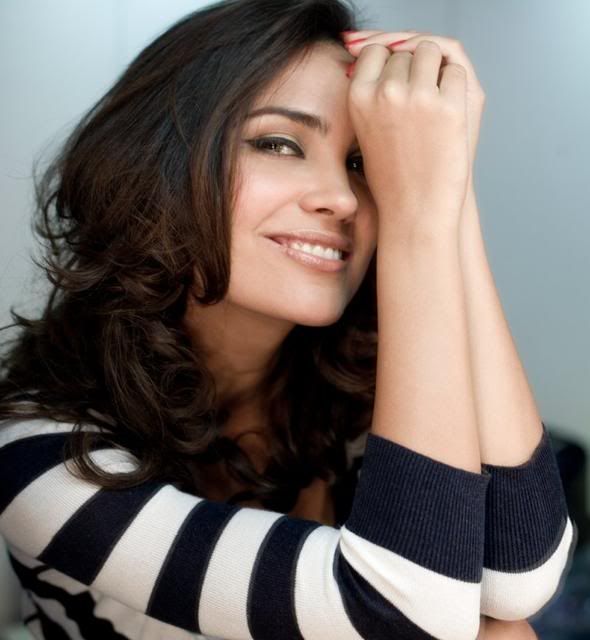 osted on the net and flashed over the news, the entire country has been in a state of chaos. According to the latest reports, SRS (Slimy Rats Sene) activists protested at the sets of Lara Dutta's new movie,
"Hum Dilwaale Deewane"
, to be directed by Karan Johar. According to eye-witness accounts, three imported cows, a Bugatti Veyron  and sets resembling Interlaken, Switzerland have been burnt at Ramoji Rava Film City. Karan Johar was quick to react, and he called on Raj Thackray, who called on his uncle Bal, who called on Javed Miandad, who called up his
samdhi
Dawood, who called up Pramod Muthalik. who called it quits. The matter has now been reported as calm and Pramod Muthalik is being treated for post-traumatic stress for the phonecall he received while "Hum Dilwaale Deewane" will release on Diwali, as scheduled.
In other news, Mahesh Bhatt has reportedly dropped Shoaib Akhtar from his latest movie "
Main aur Meri Zillat
" and plans to cast Gen. Musharraf instead.
"...I am thinking about it. We'll get some test shots of him with a handlebar moustache with a Harley Davidson jacket and an Armani bike... Lets see how it goes"
This is Musharraf's second attempt to enter the Bollywood industry, after unsuccessfully auditioning for a role that eventually went to star Emraan Hashmi opposite Manika Sherawat in the movie
Murder.
Legend has it that Emraan has thanked Musharraf 3,18,857 times since then.
-
(With inputs from Carl Woodward and Bob Bernstein)
Ingit Tibrewal, The NH8 Journal